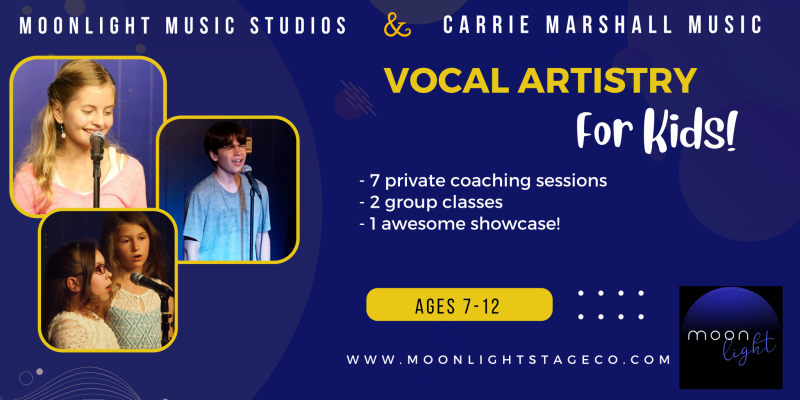 Music Studio: Vocal Artistry For Kids
with Carrie Marshall
$42500
In conjunction with Carrie Marshall Music Studio, this 10 week songwriting/artist intensive is for beginning singers and those who want to grow their skills. No experience necessary! The 10 week intensive includes:
- 7 one on one private sessions! (30 minutes each)
- 2 group classes (day/times TBD)
- 1 professional level showcase open to the public Sunday, DEC 4th (Time TBD)
 Focus for this Artistry Track will be learning the fundamentals of good singing (breathing, posture, head voice/chest voice, tone and melody) as well as finding great new songs to build repetoire and confidence as a singer and vocal performer!  
In private sessions, Carrie will come alongside to format a specific program tailored to each writer's strengths and areas in need of improvement.  In group songwriting sessions, we will get comfortable singing for others and connecting as a performer to the audience! 
A final showcase allows the student to polish and perform a song for the public! 
Payment plan available: $50 deposit plus 5 payments of $75.00, paid every two weeks.
Sep

19

-

Nov

21st

,

2022

Mon

for

10 weeks
Moonlight Arts & Entertainment
4720 Hargrove Road #130
Raleigh, NC 27616 Get directions