Filter by Category
Kids 7-11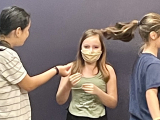 Kids Improv & Acting Summer Camp!
with Megan O'Neill

Jul 18, 2022 at 9 am

, runs for 1 week
Ages 7-10
Time: 9 a.m.- 4pm P.M.
Spend the week playing games and using your imaginations to create improvised scenes and also learn to have fun acting out a script! Campers will do Improv in the AM with Megan and ACTING in the PM with Rachel Kanakanui! Learn various improv games, as well as doing some fun play activities. We will build confidence, learn how to create characters and think on our feet! Camp will end in a showcase for parents and Friends!
Payment plan available: $75 deposit plus 2 payments of $137.50, paid weekly.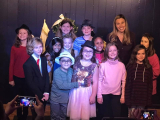 Kids Musical Theatre and Acting
with Carrie Marshall

Aug 1, 2022 at 9 am

, runs for 1 week
Work with Carrie and Lucy in this fun introductory class to the world of musical theatre will have kids dancing, singing and staging some of Broadway's best songs for kids! Learn basic vocal techniques,  dance, movement and staging all while singing classics and Disney musical songs. Work as a team! Gain confidence as a singer and performer!
In the afternoons, have a blast with Lucy in this crazy scene study class! Kids will do some great, small scenes and monologues. We will play games and learn some text and dialogue skills, all while having fun and being engaged! This workshop is also good for young actors interested in both stage and TV/FILM in a friendly, safe, and fun learning environment.
Payment plan available: $50 deposit plus 4 payments of $75.00, paid weekly.