Filter by Category
Teens 16+
Music Studio: Vocal Artistry or Songwriting for TEEN/ADULTS
with Carrie Marshall

Jan 15, 2023

, runs for 10 weeks
In conjunction with Carrie Marshall Music Studios, this 10 week vocal artist intensive is for all ages and include the beginner and experienced singer, alike. The 10 week intensive includes:
8 one on one private sessions (50 minutes each)
3 group classes (on Fridays from 5-7 p.m.) Classes will be grouped according to performance experience and participation availability.
1 professional level showcase open to the public Friday, March 24th
In private sessions, Carrie specializes in helping clients find their artistic voice and freedom with singing and artistry. From troubleshooting issues surrounding technique and vocal control, to the mental and behavioral challenges that can plague performers (performance anxiety, overthinking, confidence and stage presence, etc.) Carrie comes alongside each student to customize a vocal regimen that is applicable for them specifically, addressing their issues and concerns. 
 Group vocal sessions gives each student a chance to practice performing, whether it's  getting comfortable singing in front of others or workshopping a song before an audition or performance. Group sessions are a wonderful way to collaborate, gain confidence and meet other vocal artists!
The final showcase is open to the public gives us a chance to strut our stuff! After 10 weeks of study, you will be amazed at how freeing and fun performing can be!
Payment plan available: $50 deposit plus 2 payments of $250.00, paid monthly. Final payment of $225.00.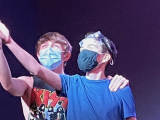 Improv for TEENS
with Megan O'Neill

Jan 16, 2023 at 5 pm

, runs for 8 weeks
Improv for Teens
Join us for fun and play! In this eight week course we will learn the rules of scene work, building characters, supporting our classmates and trusting our ideas. We will work on letting go of our instinct to be self conscious, and build confidence in a safe environment where everyone is supported. Learning and performing improv will build skills and confidence that are useful both on and off stage. All skill and experience levels are welcome! Join us for eight weeks of fun and creating! 
Payment plan available: $50 deposit plus 4 payments of $62.50, paid every two weeks.
Voice for the Actor
with Ali Evarts

Jan 17, 2023 at 5 pm

, runs for 10 weeks
For actors 16 and up, this class will introduce actors to mVm - Miller Voice Method, a breath and voice-centered acting technique that facilitates a more present, charismatic, responsive, flexible, and resilient physical instrument. Students will integrate their new skills into a contemporary monologue. Appropriate for beginning actors and seasoned professionals looking to expand the tools in their repertoire.
*This is NOT A SINGING CLASS*
Class will take place from 5-7pm on Tuesdays Starting in Jan. 17th.
mVm was founded by Scott Miller (Faculty at NYU Tisch Graduate Acting) and is taught in MFA programs around the country, including at NYU Tisch, SMU, Brooklyn College, and UNC.
Ali Evarts is an actor, writer, and Certified mVm Teacher. In addition to her arts work, she has served as the the General Manager of mVm for the last 3 years.
Payment plan available: $50 deposit plus 3 payments of $100.00, paid every two weeks.